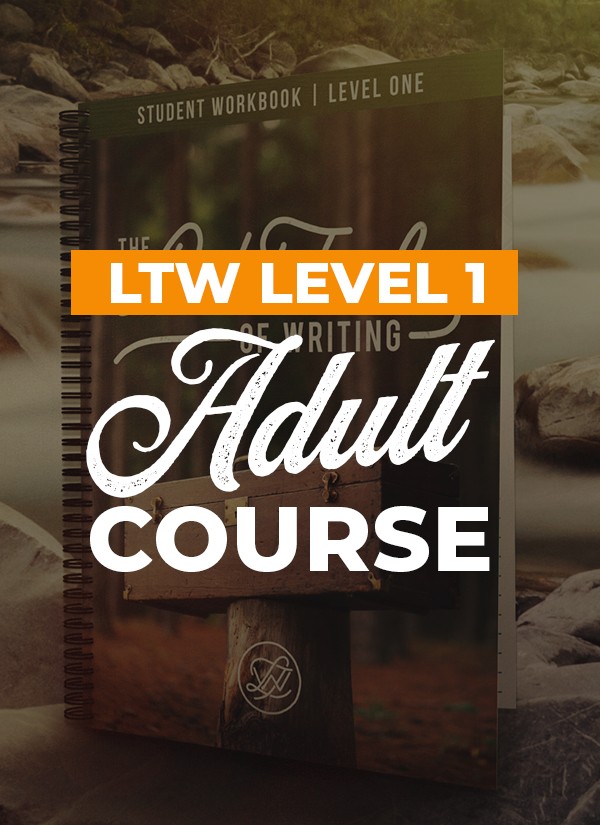 - The Lost Tools of Writing Level One - Student Workbook
- Selected fairy tales will be provided
How can we cultivate wisdom and virtue in our students? How does the art of rhetoric offer a means of practicing love and humility? And how can we teach writing to our students in a way that honors their humanity?
Through this 30-week course, participants will journey through the Lost Tools of Writing: Level 1 curriculum and several fairy tales where characters must struggle between good and evil. Christ blessed us with the faculties to combat these assaults, yet these skills need honing, and that's what this course endeavors to do through the art of rhetoric. We'll explore and wonder what wisdom and virtue look like in various circumstances as a means of growing in discernment through the moral imagination.
Participants will have the opportunity to employ the three canons of classical rhetoric: Invention—developing content; Arrangement—organizing content into outline form and adding needed content for presentation of arguments; Elocution—learning and applying different editing and stylistic skills. Learning to think deeply in these skills, participants will not only be able to write a well-organized and thorough persuasive essay using a variety of schemes and tropes to engage the audience but will also be able to carry these tools to other areas of teaching.
Course Objective: 
By the end of this writing course, participants will have the opportunity to experience full mimetic lessons of the entire LTW: Level 1 curriculum, write a well-organized and through persuasive essay using a variety of schemes and tropes to engage the audience, and contemplate how wisdom and virtue are cultivated through the art of rhetoric.
Important Calendar Dates:
Fall Semester
September 20, 2022: First Class Day of Fall Term
November 21-25, 2022: Thanksgiving Recess (No class on Nov. 22)
December 6, 2022: Last class of Fall Term
December 9: CiRCE Online Fall Term Ends/Christmas Recess Begins)
Spring Semester
January 10, 2023: First Class Day of Spring Term
February 20 – February 24, 2023: Winter Recess (no class on Feb. 21)
April 3-7, 2023: Holy Week & Easter Recess: (no classes on April 4)
May 30, 2023: Last Class of Spring Term
Course Map
Through the process of exploring the beauty of the Lost Tools of Writing: Level 1 and honing their skills in the art of rhetoric, participants will have the opportunity to submit their writing for assessment. While the essays will primarily follow a three-week cycle, there are a couple of instances where more challenging skills are spread over four weeks.
Assignments
Essays will usually follow a three-week cycle, where one canon of rhetoric is completed each week. All assignments should be submitted though Canvas and uploaded as a Word document or PDF. Writing tools will be taught in our virtual classroom on Tuesdays, and most assignments will be due the following Friday at noon EST. If work is needing refinement, participants will have until Tuesday at noon EST to make corrections.
Late Work
Because the skills learned in this course build upon subsequent lessons, the ability of participants to understand future lessons becomes more challenging. However, we understand that circumstances occur that may cause timely submissions challenging. With that in mind, Mrs. Maldonado will accept up to three late assignments over the course of the academic year.
Attendance and Participation
Attendance for this adult course is optional, though the more one is involved, the more one will reap from the course. A link to the recordings will be posted on Canvas for those unable to attend during the schedule class time or wish to review it.
Discussion Board
Occasionally, Mrs. Maldonado will post a question or thought for participants to ponder on the discussion board. While these prompts are optional, they do benefit participants by deepening their understanding of how we can use the art of rhetoric to bless our communities. Participants are welcome to ask questions or share information that they believe would be beneficial to the rest of the community as well.
Assignments
All assignments are optional, and participants are free to use any story for their submissions. Writing one essay and building upon it for the entire year is also an option for those desiring to submit assignments but have limited time. Feedback is provided in a manner that honors each participant where he or she is on the journey. This is the model that is used when teaching students. A perfect essay is not expected, but rather an evaluation is made on whether mastery of the skill taught has been demonstrated. Once an assignment has demonstrated mastery in the skill taught, a participant's assignment will be graded as complete. Any assignments that have not been submitted or corrected by the weekly deadline are assigned the grade of incomplete.
Recommended Texts and Materials: 
Lost Tools of Writing: Level One, Teacher Workbook
A Circe Guide to Reading
A notebook for commonplacing (a composition book works well)
Note on Other Recommended Materials During the first day of class, participants will walk through a method of organizing their work for this course, as a model of one way of organizing class notes and assignments.
While these materials are not required, students may find it helpful to organize their class materials with the following items:
1.5 inch binder
7-tabs insertable dividers
approximately 12-15 protective sheets
Loose leaf paper
Adult Lost Tools of Writing Level One